The Piano Bar Sing-Along Piano Show is one of the hottest tickets in Northwest Arkansas. 
If we sold tickets…that is. Voted Best Live Music Venue by the readers of the Northwest Arkansas Democrat Gazette in 2021 and in the Top 3 in 2020, it's not hard to understand why The Piano Bar regularly has a line down the block. 
You can bring that show to your event at your venue. 
The Piano Bar selects our piano entertainers carefully from a curated roster of industry veterans with decades of experience not only in club (and even bigger) performances, but also private event performances. Even new players go through years of training before setting out into the world of private events. 
Every player we send has played thousands of events all over the world including wedding receptions, birthday parties, corporate celebrations, and anything you might be celebrating.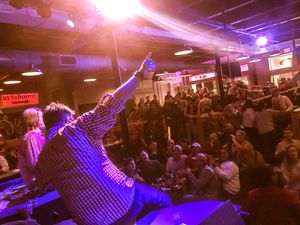 Backed by the brick and mortar The Piano Bar brand, many of the pitfalls and concerns of hiring entertainment for your event can be avoided. 
Our performers have thousands of songs in their repertoire spanning the decades and genres. And they play with one goal in mind: making your guests happy with a fully immersive sing-along show. 
You can rest easy knowing our performers are full-time professionals ready to provide a G-rated, private event friendly show. They're always on time and always prepared with the full force of The Piano Bar backing every outing. 
You'll always have someone you can stay in touch with and people who can answer any questions that might come up.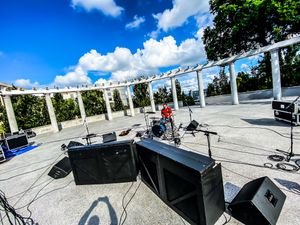 The Piano Bar provides the equipment as well. We'll bring the sound and lights…just hook us up with plenty of electricity because we want to make sure you get the full power. 
Upgrade to The Piano Bar Band for a full-band experience unlike any other. Our players are talented multi-instrumentalist who can entertain from all over the stage supported by a group of the best instrumentalist available. The Piano Bar Band combines the power of a full band with the interactive elements of a sing-along piano show as well as that almost limitless repertoire.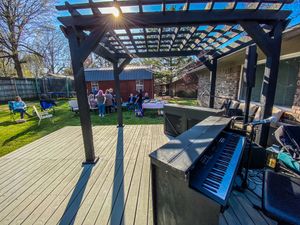 We look forward to providing a memorable night for your guests! 
Our basic rates will be attached. Please note that we will charge extra if traveling a long distance. The charges will be based on current gas, rental, hotel rates, but we will keep those minimal. 
And, yes, we will travel anywhere in the USA.
PLEASE CONTACT US VIA THE FORM BELOW